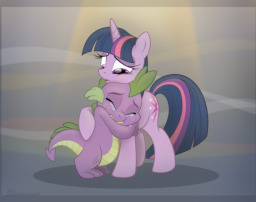 It's been a week since the Royal Wedding, and Twilight and her friends are back in Ponyville, safe and sound. However, ever since they returned from Canterlot, all of Twilight's friends have gone through large bouts of guilt over ignoring her warnings. But of all her friends, Twilight is most concerned about Spike, who keeps waking up in the middle of the night with severe panic attacks.
Despite all her best efforts, Twilight hasn't been able to get her assistant to talk about his dreams, or make him feel better about himself since that day. But after another restless night, Twilight has had enough, and refuses to let him go until he talks about his dream.
However, when Spike finally confesses his recurring nightmare, he talks about what could've happened if Twilight never saved the wedding. And what she discovers, is much worse than she could've ever imagined.
I want to thank CYOA_Anon on 4Chan for helping proofread this. The original pic was made by sherwoodwhisper on Deviantart here.
Chapters (1)