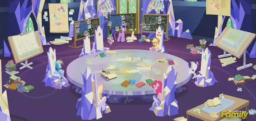 [Note: This chapter is based on the events of MLP's recent 200th episode, and was written less than two days after the episode premiered.]
It's been less than a month since the unexpected return (and near domination) of King Sombra upon the Crystal Empire, as well as Ponyville and Canterlot. Even though the treacherous foe had been vanquished once more, and Equestria was still safe and sound, Twilight Sparkle was happy to see that the Royal Sisters were already looking into increasing the security measures around their castle. And since the pony assigned to strengthening their defenses was one of Equestria's most skilled unicorns in protection magic -- Prince Consort and Head of the Royal Guard, Shining Armor -- it seemed only fitting to have the Princess of Magic herself test his security measures with the aid of her friends.
Spike and the six Elements seemed more than eager to test their skills against Twilight's brother, but one of them appeared to be less worried about Shining's capabilities than she should have. Is Twilight able to change Rainbow Dash's opinion about the stallion they saved on multiple occasions? Or is there more to Shining Armor's abilities and skills that haven't been seen by them just yet?
Chapters (1)