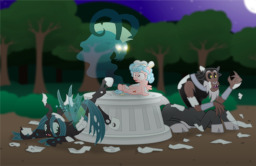 Source
This story is a sequel to Flurry Heart's Story: Elements Assemble!
---
Tirek, Cozy Glow and Chrysalis wake up to find that their stone statue has been broken and they have been set free. After narrowly escaping the Canterlot guards, they discover they have been asleep for over eight years and immediately start plotting revenge. While Chrysalis desires to rebuild her changeling army, Tirek is tired of Equestria and just wants to return to the Midnight Kingdom to confront Scorpan. Cozy is still angered with Discord, Celestia, and Luna and desires something else very personal. After a long argument, all three of them agree they can no longer continue their alliance and part ways.
This story takes place during the events of my earlier fanfiction "Elements Assemble" and is part of my series called Flurry Heart's Story.
Chapters (1)