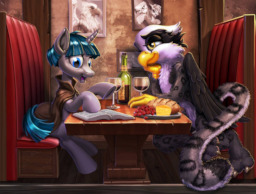 Source
Glenda is Stygian's biggest fan in Griffonstone. (Not that there was much competition.)
---
Set a year or two after Twilight's Coronation and many years before the finale episode. Contains no S9 spoilers.
Note: M-rated sequel, "Beaks and Talons," available here.
Glenda is from the wonderful comic "The Convocation of the Creatures."
---
Winner of "Most well-written story" in the May Pairings Contest 2021.
Every single sentence this author wrote made the story come to life in a BIG way! I didn't once feel like I was reading a story. I felt like I was experiencing it, like I was right there, in the characters' shoes, feeling what they were feeling, seeing what they were seeing. It also helped me to get a better understanding of each character and love them on a deeper level. For example, let's take one paragraph from the story:
...
This kind of vivid imagery is found throughout the entire story, and the characters' voices help bring out their personality in meaningful ways that help you bond with them, to learn to love them beyond what the comics or cartoon give you. This was a no-brainer as the most well-written story in the contest.
---
Big thanks to Aragón for help with story structure, Wolfjack for trout en papillote, and  Steel Quill, Krack-Fic Kai, Sledge115, and Nitro Indigo for prereading.
---
Cover art via commission with Harwick. I love it and it is far better than I ever envisioned or deserved. 
Chapters (1)