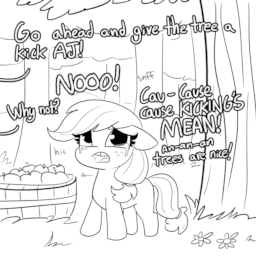 Source
Bright Mac held himself as the cornerstone of his family: husband to his beautiful Pear Butter, father to a colt and stallion who he both adores and cherishes dearly. He works hard in the fields to make the best living he can for his family, to give them the opportunity to live a life without worry of work or success or lost dreams. Of course, he imagined Applejack would someday discover the world beyond the apple fields.
One night, as he tucks AJ into bed, the little filly asks if she can come with him to the fields. He sees no reason to deny her, and welcomes the idea of giving her a peek into the work of his own two hooves' making. It'll be hers someday, so it's best that she take the chance to learn while she's got the time.
He just didn't expect to go learning with her too.
Artwork by TJPones, from Derpibooru. Pre-read by Raleigh and Sockpuppet! Featured the same day? Thank you so much!
Chapters (1)