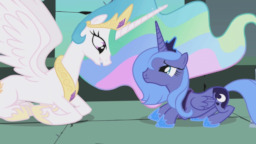 After the Elements free her from Nightmare Moon, Luna asks Celestia, "What happened to my daughters?"
Celestia escorts Luna to the Canterlot Sculpture Gardens and shows her the Reliquary of the Heroes.
Under the statues of her millennium-dead daughters, Luna learns how they lived in the shadow of Nightmare Moon's treason, and how they died as glorious heroes of Equestria.
---
Sequel: With Her Majesty's Coast Guard.
---
---
Content warning: Pandemic. Note that this was published before current events.
Chapters (3)