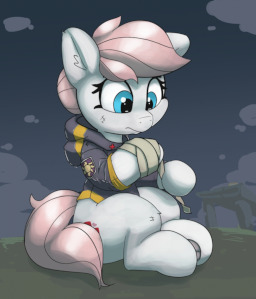 A nurse has seen it all. A combat medic has seen even more.
Princess Celestia sends her elite Household Battalion—"Celestia's Own"—south, far beyond the borders of Equestria, to break the slave trade and to free the oppressed. Medic Redheart, a young rookie among the Guard's hardened veterans, is with her Battalion every step of the way.
She's never told anypony her story. Until now.
---
A side story/prequel to my The Ponies in the Caves and A Story to Relate To, but reads independently.
---
This story is fantastic. There wasn't a single chapter that didn't give me chills or bring a tear to my eye. The way you describe the selflessness of the soldiers, and Redheart's unrelenting drive to save them, no matter the personal cost, was exemplary. I look forward to more of your work.
-SGTBRONY
Has a Black Company feel to it with the medic POV. Great story so far!
-Lerris
---
Cover art by Pabbles, by commission. Thanks!
---
With massive thanks to the folks in the Discord for comments and advice, and Totallynotabrony, Raleigh, Sledge115, and ChudoJogurt for detailed pre-reading, in whole or in part. Any remaining errors are fully my own.
---
Author's notes and commentary blog, with big spoilers.
Chapters (11)