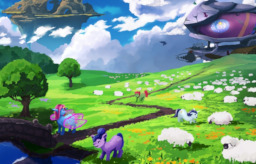 Herin lies the tale of the STARK WEATHER - MARE EXPEDITION to the CLOUDBREAK ISLANDS, in 1365 YD. The mysterious floating islands are the stuff of legend, said to exist within the massive, eternal storm wall, far off in the wilds beyond the north-west borders of Equestria. A few fringe historians claim they are the origin of dragons, griffons, even magic itself, but only a few fragmentary, contradictory accounts exist from those who entered the storm and returned to tell the tale.
Fifteen years after Princess Twilight took the throne, the time has come for the secrets of the Cloudbreaks to be revealed. Two great airships of the Storm Fleet have been slumbering, mothballed since their capture in the Sixth Battle of Canterlot. Now the EAS Friendship and the EAS Harmony have been refitted for the task ahead: equipped with experimental devices to cut through the storm. Nearly two hundred ponies and allies are assembled: the finest explorers, researchers, aircrew and engineers Equestria has to offer. Together they will be the first to pierce the veil and fly to the Cloudbreak Islands.
High adventure awaits in these 'sky lands', populated by strange creatures and filled with unknown magic. What caused a piece of another realm to seemingly break away and become part of Equus? What happened to the long-vanished guardians, villains and great spirits of the realm? What designs do the remaining population have on Equus and how will they greet its ambassadors?
Set around the time of 'The Last Problem', and based on a four-player online RP with Ferret, Patashu and Spearmint. Note: the action takes a while to get rolling; the early chapters focus on character interaction. If you want to skip the prologue, try Chapter 4: Crossing the Storm, or Chapter 18: Exploring the Cloudbreaks.
Chapters (74)