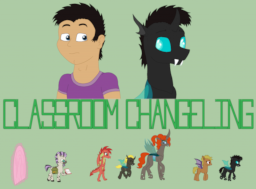 Source
Rove Hummel was in a rut. Every day was the same; wake up, go to school, go home, and go to sleep. What he wouldn't give for something to break up the monotony.
But when he spontaneously turns into a Changeling during Biology Class, he begins to regret ever thinking that.
---
Rated T for usage of the F-bomb, as well as heavy innuendo, mature themes, and a single instance of off-screen sex. There is also mention of what essentially amounts to a drug in Chapter 21, but none is actually seen or used.
The sequel is here!
Chapters (26)