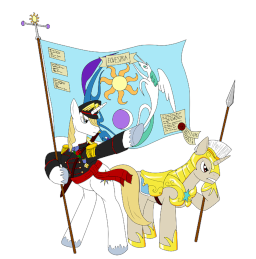 In the aftermath of the Changeling incursion of Canterlot during the marriage of Shining Armour and Princess Mi Amore Cadenza, Equestria gears itself for war against the Changeling menace. Against a foe that can take the shape of anypony, assume their life, and undermine Equestria from within, the Royal Pony Sisters create a new institution to monitor their Royal Guard for any Changeling corruption, cowardice, and incompetence: the Commissariat. As total war rages across the land one hero stands out above the rest; Commissar Blueblood, hero of Equestria. Or at least that's what the propaganda says. The truth, as ever, is far more complex, as the esteemed Blueblood is merely looking for an easy and sedate life. Unfortunately, fate has a habit of throwing him into increasingly dangerous and suicidal missions, which he must survive with a combination of self-preservation, lying, and sheer blind luck, even if doing so only fuels his soaring reputation!
Author's Note:
Alright, please read this bit. This is an MLP/Ciaphas Cain (Warhammer 40,000) crossover, sort of... You see, rather than try and mash these two very different universes together in a clumsy way I have instead transcribed the writing style, character personalities, and a handful elements from the Ciaphas Cain novels into MLP, most obviously transplanting Ciaphas Cain's personality into Blueblood (don't worry hopefully it'll make sense) and the existence of the Commissariat. This will be firmly rooted in MLP, so no power-armoured ponies and no oppressive grim darkness. I suppose this story might have some dark elements in it, since we are talking about total war, but certainly not to the level that 40k is infamous for. At any rate, this means you won't need an encyclopaedic knowledge of the 40k universe to follow the story, or even any knowledge of 40k at all.
Will add tags and characters as they appear in the story (or remove them where necessary, characters may be relegated to side characters and therefore removed from tags as the story progresses)
Cover art done by me.
Proofread and edited by the always dependable Setokaiva, who helps translate my barely coherent ramblings into something resembling a cohesive story.
Chapters (42)