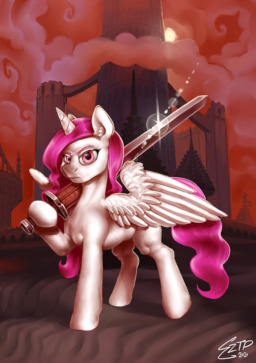 Source
"Between the time when the oceans drank Marelantis and the rise of the Elements of Harmony there was an age undreamed of.  And unto this Celestia!  Destined to bear the jewelled crown of Equestria upon a troubled brow.  It is I, her chronicler, who alone can tell thee of her saga. Let me tell you of the days of high adventure!"
Celestia is many things to her little ponies: princess, leader, and teacher, to name a few.  Yet her past is unknown to her subjects, lost to the depths of time.  After she passes her crown to her student she descends into a place unvisited for over a thousand years, and there remembers a time before the Magic of Friendship, before Equestria, and before the Elements of Harmony -- the Hyponian Age.
It was an era of cruelty, violence, and hope.  Into this harsh world, Celestia the Cimmareian ventured out alone in search of gold, glory, and adventure.  The Tower of the Fallen Star and the horrors within await.
---
Cover art by EZTP, commissioned by Yours Truly.
---
Pre-read by SockPuppet, Steel Quill, and Sledge115. Thank you to all in the site's Discord who helped bring this idea to life.
---
We have many tales of Celestia the Princess, Celestia the Ruler, Celestia the Lover. This is a Celestia who can keep the pages turning all day long.
-Steel Quill
Chapters (6)