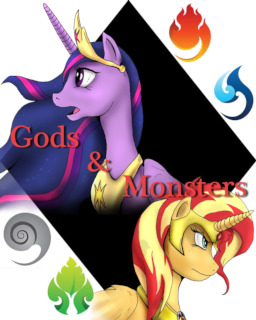 This story is a sequel to Incarnate
---
It has been 100 years since Princess Twilight had recreated the Lunar Lock mirror to Earth following its destruction. While Twilight had seen to the affairs of Equestria with the occasional assistance from Celestia and Luna, Sunset Shimmer had been living and raising a family on Earth only visiting every 30 moons and avoiding the ever growing quagmire of Canterlot politics. It is a blissful existence for Sunset, but sadly, nothing lasts forever.
One night Sunset receives a dream visitor who she did not expect and a warning of the approaching doom of Equestria by ancient creatures. Sunset must choose between either remaining in her self imposed exile or returning to the world she abandoned including facing her family and friends in order to help save them.
Some might think it an easy decision.
It is not.
Chapters (30)