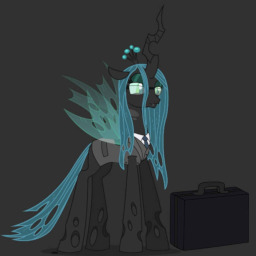 Chrysalis was blasted from Canterlot by Shining's and Cadance's love for each other, but she hasn't lost yet, she still has a secret weapon against them.
A weapon that only an ancient love-sucking being with a keen mind and an army of spies can wield; a deep understanding of the pony's laws.
So, she arms herself with a business suit, glasses, and a briefcase full of documents, and marches on towards Canterlot.
Featured 4/20/2020, this time was intentional!

Narrated by StraightToThePointStudio: Narration
Reviewed by Javarod: Review
Chapters (1)