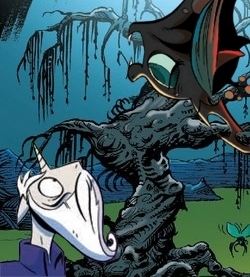 This story is a sequel to Chrysalis Goes to Therapy
---
After her therapist had suggested her to do so, and mostly because she'd paid for the session, Chrysalis decided to organize a family reunion and invite her parents to it, so she could have a chance to finally talk with them after all the time they'd been separated.
Of course, there were a series of minor inconveniences. Like the fact that her mother was a tree living in a swam. Or the fact that her father didn't know about the fact that she was his daughter. Or how he would have never followed an invitation to the swamp, and would have probably attacked her if she'd tried to approach him directly.
Nothing that couldn't be solved by some tried and tested changeling persuasion, though. Ponies usually referred to it as 'abduction'.
Chapters (1)