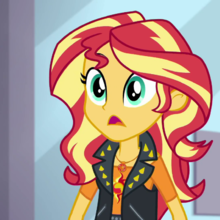 Being a unicorn pony, a high school student, a magical girl that fights with the power of friendship, and an artist, Sunset Shimmer thought she was ready for anything the world could throw at her.
What she never expected was to be called by the principal, saying that her mother was looking for her.
Written for A Most Delightful Ponidox.
Not even a day and it already got featured! Hurray!
Note: If you're a reader of my story, Seeking My Purpose In The World, consider this an alternate timeline where Sunset went through the mirror to the human world.
If you haven't read the story, don't worry it's not necessary
Chapters (1)