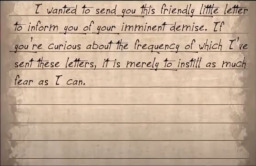 Twilight Sparkle had only spent a few days recovering from her visit to Our Town and the defeat their cult leader when she finds a letter from said unicorn dictator, stating her intentions of revenge that she definitely has already planned, and that she will keep an eye on her, not because she's living in the castle and has been stealing her food to survive.
Needless to say, Twilight is very confused.
A rip off of blatantly copied from inspired by: Strange Letters from a Queen Bug Horse which you should be reading instead of this.
Now translated to Russian by GrandCat: Translation
Chapters (18)