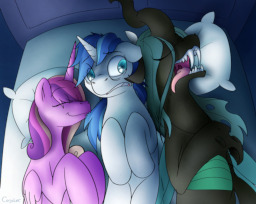 Source
Shining Armor confesses to Celestia that he might no longer be able to serve as Captain of the Guard, due to his unique marriage situation. Being in love can make one dreamy and distracted, but this is different. The love of your life doesn't usually hunt you.
A light-hearted one-shot.
For serious and deep stuff, try my other story. Teen for sexual topics.
Cover art by the talented Conicer of DeviantArt and Fimfiction
originally made for TheWraithWriter's story here.
Chapters (2)