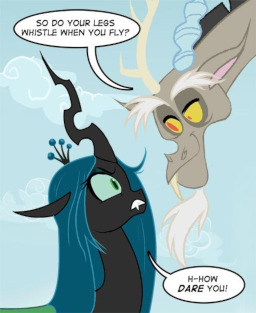 Chrysalis had been in exile for some time now, and had found a quiet life in the forest, talking to herself and to wooden replicas of her subjects and enemies.
But her crazed peace was interrupted when Discord started visiting her lair, annoying her with questions and tricks that according to him, were to amuse her, but looked more like he was just mocking her.
But today is different.
Today he brings an offer to her.
From one villain to another.
My first entry for the May 2020 Pairing Contest
Featured on the 5/5/2020 yay!
Reviewed by QueenChrysalisForever: Review
Chapters (1)