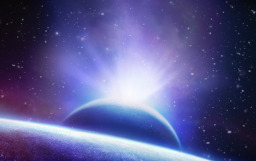 Source
Equestria died long ago, but Princess Twilight wouldn't give up. She made her own star, and built a small planet alongside it.
For a time, these new worlds knew harmony, and learned to prosper in a dance of friendship and magic. But even these worlds would eventually die, and the ones that replaced them.
Finally, the universe itself began to die, as all remaining matter evaporated into radiation or was sucked into infinitely dense singularities.
That didn't stop Princess Twilight Sparkle.
Chapters (1)