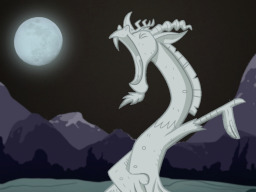 When the Lord of Chaos is finally defeated, the Chaos magic that kept the world breathing is gone from the aether. Seven vessels must step forth to claim the power only Chaos can bring, but there is a price for lack of spirit...
Written for GaPJaxie's Quills and Sofas Speedwriting Competition. Conceived and written in an hour.
Prompt: "The stars are gone."
---
The "full" version was finished with fifteen minutes overtime on top of the original hour, to better reflect what I set out to achieve.
The one-hour-hard-limit version was what was entered in the competition, and went to the semifinals.
Chapters (2)