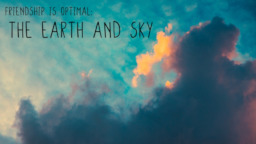 This story is a sequel to Fragile Hearts
---
It's over. In the time since Celestia's apotheosis, the Earth has become a lonelier and lonelier place.
After the last of the anti-emigration strongholds fall, and all that is left of humanity is all but certain to emigrate in the end, Celestia invites those ponies in Equestria that still remember their old home to see it one last time.
Silver Star can't exactly ignore the opportunity. Neither can his daughter.
This story is set in the Optimalverse, and I strongly recommend reading the other stories in my continuity first.
Chapters (7)