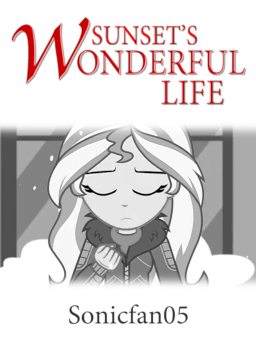 WARNING: There are major spoilers in the comment section. You have been warned!
---
After some time of turning over a new leaf, Sunset was happy with her life. She gained new friends, slowly winning over the students at CHS and became the protector of the human world alongside her friends against any rouge magic and creatures. She wanted to give back to everyone by becoming the head director of the Christmas party and Toys for Kids Festival at the school on Christmas Eve.
But when the events of the party and festival went wrong due to her past, Sunset was down on her dumps after she was blamed for the disaster and felt like she had ruined her friends lives because of her. Just when she was about to give up on everything, a mysterious teenaged girl, who claimed to be her guardian angel, showed Sunset what the world and her friends would be like without her.
---
This is an Equestria Girls take of an ever so beloved classic Christmas film, It's a Wonderful Life!
---
FEATURED: 3/20/20 - Wow! Thank you all so much!

---
This story now has a Spanish translation by Arthor2017

Chapters (16)