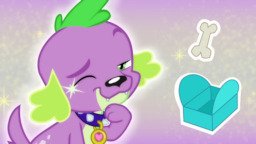 Twilight was just hanging out at the mall with her best friends, until many people came up to her, complimenting and asking about her dog, Spike, much to her confusion. When she found out that her own dog has been making his own vlogging series on HayTube, Twilight decided to have a bone to pick with him.
Part of the "Since When?" series!
---
Based off on Equestria Girls: 'Reboxing w/ Spike' short.
---
FEATURED: 1/17/19 - Whoa! Thank you all so much!

Chapters (1)