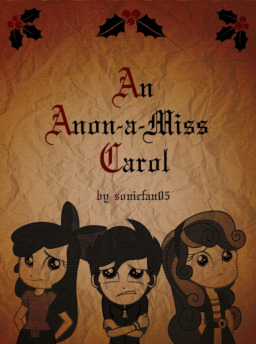 WARNING: There are major spoilers in the comment section. You have been warned!
---
On the night of Christmas Eve, the CMCs are having a sleepover, talking about what to post next as "Anon-a-Miss". Sweetie Belle is getting worried about Sunset, but Apple Bloom and Scootaloo ignored her worries and told her that Sunset will be fine.
But later that night, they were shocked when they were visited by the ghosts of Apple Bloom's parents, who express their disappointment in them and wanting Apple Bloom to confess to being Anon-a-Miss and make things right. When Apple Bloom refuses to do so, her parents then warned the girls that they will be visited by three ghosts later tonight. Apple Bloom brushes this off, thinking her parents were just joking, only to find that they weren't the next time they woke up.
---
Based on a classic Charles Dickens' story, "A Christmas Carol".
Story Idea by SweetTeaFiend. Thanks again for granting me permission to post this story!

Special thanks to MLPSolarDash1907 for proofreading this story!

Cover art designed by me.
Note: This story is already planned and written. New chapters will be posted between the 20th - 24th of December.
FEATURED: 12/20 - 12/22/21 - Thank you all so much!

This story now has a Tv Tropes page!

Chapters (7)