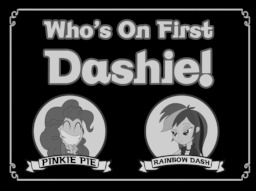 One day, Pinkie Pie visits Rainbow Dash on the school's field to tell her that Rainbow Dash is now the new member of the All Star Baseball Team! Rainbow Dash is very excited with the news but she doesn't know any of the players she is going to play with. So Rainbow Dash ask Pinkie Pie for the names of the players and...hijinks ensues.
This story is based on Abbot and Costello's most famous skit: Who's on First!
Human Pinkie Vector by: MLP-Mayhem
Rainbow Dash Vector by: SketchMCreations
The rest of the cover art is made by me!
Chapters (1)