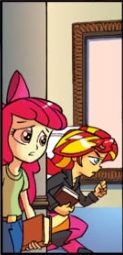 Apple Bloom and the rest of the Crusaders originally created Anon-a-Miss to frame Sunset Shimmer by posting embarrassing secrets about her sister and her friends so they can kick Sunset out of the group so Apple Bloom can spend more time with her sister. But after Apple Bloom got what she wanted, she actually felt... torn, mostly guilty for what she did to her sister and to Sunset Shimmer. And then things were spiraling out of control in school as students were fighting each other as more secrets were posted online.
During the chaos on school grounds, Apple Bloom hid in the class room, lamenting about her past actions. While she was deep in thought, she was suddenly visited by an unexpected visitor.
---
This is a one shot Anon-a-Miss story.
---
FEATURED: 8/1/18 - Wow! Thank you all so much everypony!

Chapters (1)