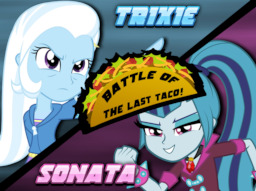 *Spoilers for EG - Rainbow Rocks*
It's Taco Tuesday! Sonata had been waiting to get one since last week. But when there's only one taco left and another girl wanting to get it as well, they decided to battle for the last taco. Who will win?
Sonata vector by: starcrystal272
Trixie vector by: negasun
The rest of the cover is made by me.
Constructive criticism welcomed!
---
Edited: This story is updated as of 3/25/18
Chapters (1)