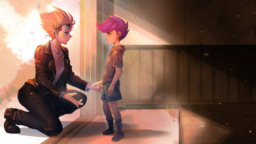 The Wonderbolts, Equestria's premier acrobatic and stunt troupe, bimonthly take it upon themselves to give back to the community. It's good for the kids, it sends a healthy message, and the press is nothing to sneeze at either. On one such charity case, the Wonderbolts' chief coordinator and lead performer, Spitfire, undertakes the task of taking in a child to give them the best week of their life. In doing so, she unknowingly throws herself down a path that brings her to ask many questions she had long since wanted to repress...
"Would I make a good mother?"
---
Humanized characters.
The concept for this story was drawn up before the events of a certain episode. I'm sorry.
Editing and Proofreading provided by the diligent Laeri
Art crafted by the ever talented bakki
Chapters (4)