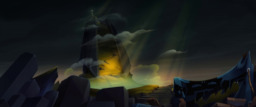 If there was one thing the ponies of Equestria had come to understand after their rekindled friendships, it was that the past is often distorted by time, fear, and misunderstanding. It was a long road for the ponies of Maretime Bay—as well as Zephyr Heights and Bridlewood—to overcome those gaps, but their returned unity has given way to their magic and hopes of a brighter future. A future helmed in great deal by Sunny and her friends, come what may.
Even if that first trial is the declaration of war.
---
If you want to support me, please think of dropping by my Ko-fi.
Chapters (1)