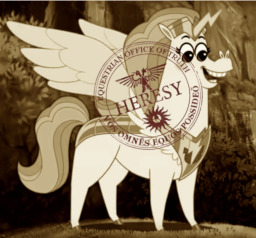 Equestria is rather notorious for its historical illiteracy. A thousand years guarantees anypony who wasn't there to witness the event won't remember it. Even the passage of a few generations runs the risk of events falling by the wayside.
But some things ponies remember, even if they don't always retain the reasons why they hold onto those memories. Twilight Sparkle just found one, and now she's going to try to find the reasoning behind it.
It's worse than she could ever imagine. On so many levels, it is so much worse.
Inspired by "Corn & Peg," a Nick Jr. cartoon that G4 very well could have been in a much darker timeline. Set in very early Season 8, during the School of Friendship's construction, and assumes that "Spring Breakdown" took place during that time. Blame/thank Estee for this story's existence. No heretics were BLAMMED in the making of this story.
Chapters (8)