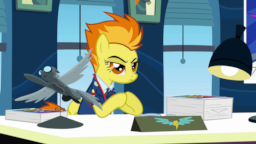 Source
My name is Spitfire. I'm the captain of the Wonderbolts; the best fliers in all of Equestria. As captain, I feel that I have a certain obligation to my team. In a sense, they're kinda like my family (and trust me, I'm usually not that sappy). So when our practice course is sabotaged and it almost claims Misty Fly's life, you can understand why that would make me kind of livid. Especially since we were practicing for this special competition meant to strengthen pony-griffon relations.
And if that wasn't bad enough, I also have this oddball stalker claiming that these attacks are gonna continue. No, I'm not kidding here. This weird pony dressed up like something out of a comic book says that if I want to stop these attacks, I have to find the dock-hole behind them. Hey, just a quick question. Why me? I mean, I'm concerned about my team and all, but I'm a Wonderbolt, not a detective! Heck, you clearly know more about what's going on; why don't you do the legwork and catch this guy?! For that matter, why should I trust you?! I don't even know who you are!
Sorry, sorry. I didn't mean to snap like that. I'm just not in a good mood right now. And Celestia help anypony who crosses me, be it that assassin or the costumed freak. Because if I get my hooves on either one of them, it's not gonna be pretty...
The story I'm about to tell you is real, although some details are debatable. I'm not gonna bother changing any names because I know there's at least one smart aleck out there who's gonna try to figure out the real names, anyway. Oh, and all you parents out there might wanna consider sending your little ones to bed. I'm gonna delve into some pretty heavy stuff, and I don't want to traumatize anypony.
((Case 1 of the Mare-Do-Well Files.))
Chapters (33)