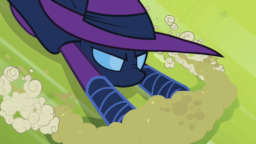 Source
This story is a sequel to My Little Investigations: The Gemstone Godfather
---
My name is Twilight Sparkle. I am the Princess of Friendship; one of the rulers of Equestria. There was once a time when I was called the Mysterious Mare-Do-Well. I used this identity briefly to teach my friend Rainbow Dash a lesson in humility. Several moons after that incident, somepony else has taken up the mantle, using it to protect ponies who are in peril. Very few ponies know the true nature of this enigmatic mare; I among them. The only thing known for certain is that she is a true hero.
But now, she has gone mad. Or at least, that's what we're supposed to believe after she allegedly crashed this year's Grand Galloping Gala. Personally, I'm not buying it. Like I said, I know this Mare-Do-Well. She would never do something like this. And as if to confirm my suspicions, there was a note left at the crime scene stating that an impostor is on the loose in one of four locations. Thankfully, I'm not alone in thinking this. My friends support me, and three ponies who have worked with Mare-Do-Well in the past agree that something is amiss.
This is their story as much as it is my own. Mare-Do-Well is our friend, and we have to be there for her just as she's been there for us. Whether she's in the Griffon Kingdom, Manehattan, the Mewlun Mountains, or here in Canterlot, we will find her and unmask her doppelgänger. Come along, Spike! The game is afoot!
The story we're about to tell you is real, although some details are ambiguous in nature. To emphasize this point, no names have been changed. It is also my duty to inform you that this tale contains subject matter that may be inappropriate for younger audiences. Viewer's discretion is strongly advised.
((Case 4 of the Mare-Do-Well Files. It's highly recommended that you read the other cases first; otherwise you will get confused.))
POV Codex:
T: Twilight Sparkle
S: Spitfire
O: Octavia
A: Amethyst Star
M: Multiple POVs in the same chapter
Chapters (51)