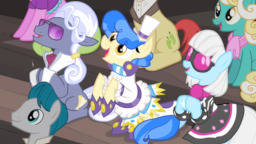 Source
Being the ever-helpful assistant that he is, Spike has made reservations at the Far-Afield Tavern for himself and his friends. Unbeknownst to him, however, fate had other ideas. So while Rarity is busy turning her hotel room into a sweatshop, Spike is sitting around in the tavern wondering where everypony is.
It eventually gets to the point when the restaurant cannot hold onto his reservations anymore. But just when he's about to head back to the hotel and write this off as a crummy day, he receives an invitation to join some famous ponies for dinner. Even more bizarre, the pony extending this invitation is someone he hasn't spoken to in ages (in fact, they barely talked at all). Normally, he'd be skeptical about this, but after a long day of hauling luggage and chasing birds, he figures it's best not to look this gift horse in the mouth. After all, business partners can be friends too, right? Right.
Inspired in part by xjuggernaughtx's fantastic fic, The Carrot Dog Fight.
Chapters (1)