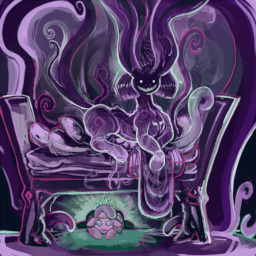 Source
Ah, Nightmare Night. A holiday where happy little foals get to dress up as pirates and witches and whatever else tickles their fancy while roaming around getting delectable candies. The kids have fun, the adults think it's cute.
Yet under the giggles and playful cries... there are screams. The stories told to amuse the kids aren't all made up, the monsters they pretend to be don't live only in the imagination, and not everyone is out for the same kind of 'fun.' Dark things creep in Equestria's unnoticed corners, and Nightmare Night is their time to play. Tonight we shall watch them at their games. These are the tales of Nightmare Night that parents don't share with their children.
---
A big thanks goes to Cerulean Voice for taking time out of his busy schedule to edit Wonderful, Aurora and Sweet to Eat, and to RainbowBob for pre-reading.
A huge and happy 'thank you' also to Kvernikovskiy, originator of Researcher Twilight, for the commissioned cover art.
The Fleur-Verse
Chronologically from Top to Bottom:
Shadow Pony
Reddux the Tyrant
No Heroes Part I - The Roster
No Heroes Part II - The Journey Home
Lightning's Bolt
The Weed
The Challenge of Fleur
Ordinary World
A Challenge for Fleur
Sweet to Eat: Tales of Nightmare Night
Chapters (4)