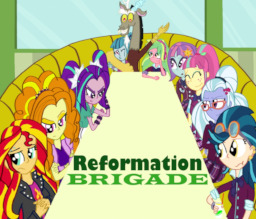 This story is a sequel to Reformation Buddies
---
After the Friendship Games, a cold war of academic ideologies has sparked at Crystal Prep Academy. While Dean Cadence pushes for a new student exchange program and a more friendly environment, Principal Cinch is instituting stricter rules and more drastic measures to keep her students in line. There are even rumors of a No Magic rule being enforced, though the details are sketchy. With so many mixed signals being thrown around, no one really knows what's in store for the prestigious institution.
Over at Canterlot High, meanwhile, the Sirens have their own problem. Sunset Shimmer's research has shown that music isn't the only way to tap into the magic of friendship. It comes out when those that wield it are true to themselves. Only problem is none of the Sirens know what that means. This is especially disheartening for Adagio Dazzle, who hasn't even regained her powers at all.
After hearing about Dean Cadence's student-exchange program, Sunset decides that she can help the Sirens and the Shadowbolts in one fell swoop by signing them all up for the program. For one week, she and the Sirens will be attending Crystal Prep, discovering their true selves while unraveling Principal Cinch's draconian schemes. Sounds simple, right?
Well, now add Discord into the mix, along with a dash of distrust from Adagio and just a pinch of the Shadowbolts not exactly being a united force. Yeah, Sunset really has her work cut out for her.
Takes place before Legend of Everfree.
Special thanks to Bookish Delight for inspiration and help with conceptualization.
Cover art provided by the amazingly talented GemiNiah.
Chapters (16)