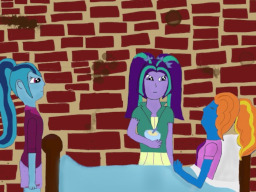 This story is a sequel to Reformation Buddies
---
The Friendship Games are tomorrow, and Sonata Dusk couldn't be more excited. However, the same cannot be said for Adagio Dazzle. Even after all these months, she still feels bitter about the Battle of the Bands. What's more, her fellow Sirens have befriended the Rainbooms, and she feels as though they don't respect her anymore. While nothing could be farther from the truth, proving it might be a bit tricky.
Luckily, Discord just happens to be in the area, and he's willing to help the Sirens out. The only question is, are the girls going to like it?
Considering that Discord is reaching into his old playbook for this one, probably not.
Cover art provided by the amazingly talented Stellar Night22.
Chapters (1)