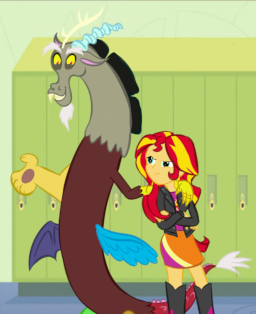 While lounging around Twilight's castle and airing some friendship-related grievances, Discord stumbles across a magic book containing letters from an inter-dimensional pen pal. As it just so happens, this pen pal also had sinister designs for Equestria, but was quashed by the Elements of Harmony. What's more, she's made amends since that day, and she's now Twilight's friendship student. Eager to bond with someone who can relate to him on a personal level and grow into a better draconequus, Discord packs his bags and heads off to the human world with Twilight's semi-blessing. His mission: Befriend Sunset Shimmer.
However, his plan has a bit of a snag. See, Sunset hasn't been keeping up with Equestrian events, and she never got the memo about Discord turning over a new leaf. As such, she believes that his sudden appearance doesn't bode well for Equestria, Canterlot High, or herself. Not only this, but the Sirens are privy to Discord's return as well, and they see this as a golden opportunity to bounce back from their own recent defeat. Well, Adagio does, anyway. Sonata doesn't want to live in a world that makes no sense, and Aria would rather maintain what little dignity she has left by not getting involved (or so she claims).
So while Discord is trying to earn Sunset's trust and show her what a good friend he is now, Adagio is trying to get in on an evil scheme that doesn't exist. And while that is going on, Sonata is appealing to the Rainbooms behind Adagio's back, hoping that they'll make Discord go away. With so much miscommunication thrown into the mix, you just know that hijinks are inevitable. Good thing Aria made popcorn.
Cover art provided by the amazingly talented Neighthirst.
Chapters (14)