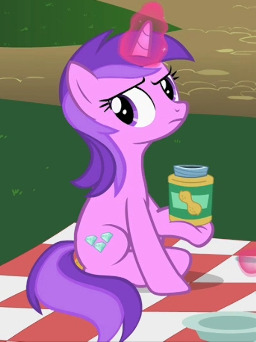 Source
This story is a sequel to My Little Investigations: The Silent Dirge
---
The name's Amethyst Star, but most ponies call me Sparkler. I'm a jeweler's apprentice and part-time foalsitter in Ponyville. I like to think that I lead a pretty simple life. Sure, my mom's a bit of a kook, my little sister's too smart for her own good (no really, she is), and my boss always sticks me with the one customer in town who thinks that we're running a candy shop. But really, that's pretty tame compared to the lives of some other ponies I could mention, and honestly, I wouldn't have it any other way. Hey, I said my life was simple, not boring.
Now, however, things are just spiraling out of control. See, my boss decides to let me run the store on my own for the first time, and just my luck, some jerkwad ransacks the place before I could even open up for business. They even left a note saying that more terrible things will happen if a gem tribute is not paid. Sounds like something out of a crime drama, doesn't it? But wait, it gets worse. I can't pay this tribute even if I wanted to. Why? Because this dock-hole thought it would be hilarious if he remained anonymous! Apparently, I have to guess the identity of this wannabe gangster! I'm sorry, but am I the only one who thinks that's just a little counterproductive?!
But wait, it gets worse! Because this guy isn't targeting my boss, oh nonononono. He's after me for reasons beyond my comprehension. And just to make things even more complicated, he's not bucking around. The day before, my mom was attacked on her mailing route by an unknown assailant, and the only reason she's still alive is because she was rescued by the Mysterious Mare-Do-Well. Yeah, you remember that weirdo pony who kept showing up Rainbow Dash with her acts of heroism? Apparently, she's back now. Um, rejoice? I mean, I'm very grateful, but I'm also very confused.
Now, I'm not an adventurous pony. As you're no doubt aware, I've got enough craziness in my life as it is. But I can't in good conscience just ignore this jackoff and let him do whatever he wants. So, I guess I'll have to play the gumhoof and get to the bottom of this. Why do I get the feeling that I'm gonna end up regretting this...?
The story I'm about to tell you is real, although some details may vary depending on your point of view. Seeing as I already told you my name, it wouldn't make sense for me to change everyone else's. Also, this is not gonna be your children's bedtime story of gumdrops and ice cream, so all you kiddies clear out (no, not you, Dinky).
((Case 3 of the Mare-Do-Well Files))
Chapters (34)