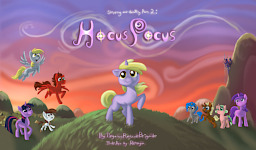 Source
Adventure
---
This story is a sequel to
Shipping and Handling
---
Magic is limited only by the strength of the mind and the passion of the heart.
After the events of "Shipping and Handling", young Dinky Doo sets off to begin her first term of study at the most prestigious magic school in Equestria, Celestia's Academy for Gifted Unicorns. The adventures that await her there will exceed even her wildest expectations, and a cast of colorful new characters will be by her side to share in them.
(This story is the sequel to "Shipping and Handling". It's highly recommended you read that one first!
Occurs during Season 3 of the show: After the Crystal Empire but before Alicorn Twilight.)