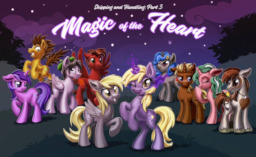 Source
This story is a sequel to Hocus Pocus
---
A few years have passed since the events of Hocus Pocus, and the lives of Ditzy Doo and her daughter Dinky have never been more exciting. Dinky's final year of study at Celestia's Academy for Gifted Unicorns is about to begin, and Ditzy's relationship with her coworker, Autumn Breeze, has blossomed into a beautiful partnership.
But when a figure from both ponies' past reappears, events quickly escalate out of control, and soon, Ditzy and Dinky find themselves wrapped up in what may be the greatest crisis Equestria has ever faced.
In this final chapter of the Shipping and Handling trilogy, two ponies learn about the greatest magic of all.
(Excluding the prologue and epilogue, takes place 3+ years after Hocus Pocus, and between seasons 8 and 9 of canon MLP.)
Chapters (22)