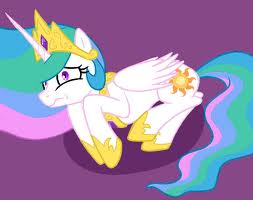 Anypony will tell you that Princess Celestia is the most amazing pony in Equestria. She's graceful, she's beautiful, and she always knows just what to say. Her decisions are wise and her manners are impeccable. Some might go so far as to say she's completely perfect.
Celestia has a secret, however. As it turns out, she actually is completely perfect. She's utterly infallible in every aspect. And boy, is she sick of it.
Now she's determined to manage to make just one little thing go wrong.
It won't, of course. After all, she's perfect.
---------
Written for the Equestria Daily Pre-reader battle: April 2013- The prompt was "Celestia's terrible secret- Revealed!" Unfortunately it didn't work nearly as well as I'd hoped, but hopefully someone gets a cheap chuckle out of it.
Chapters (1)