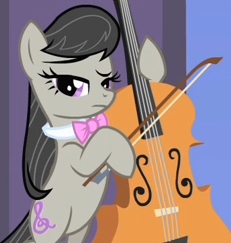 Source
This story is a sequel to My Little Investigations: Wonderbolts Under Fire
---
My name is Octavia Melody. I play the cello for the Canterlot Ensemble, and I co-host a talk show on K-COLT Radio. I feel that music is a very important part of my life. It's how I express myself creatively, and while I can't speak for every musician out there, I know quite a few ponies who feel the same way. Which is why I was very excited to be given a chance to perform at the Manehattan Music Festival; an annual event where musicians from all walks of life gather to practice their art and enjoy the work of others. It is truly a music-lover's paradise, regardless of which genre you prefer. And as somepony who can appreciate all sorts of music (yes, even dubstep. Don't, tell Vinyl I said that), I was sure that this was the opportunity of a lifetime.
Then I get a mysterious letter delivered to my hotel room saying that if I so much as play a single note ever again, my life is forfeit.
At first, I thought it was a joke (and a poor one, at that). Nopony in their right mind would take a letter like that seriously. But then, a terrible accident occurs at the festival in the middle of Vinyl's set. As it turns out, she got the same letter I did. In fact, the only reason she's still alive is because she was rescued by a mysterious mare dressed in a rather bizarre costume. I couldn't make this up if I tried, though Celestia knows I wish I did.
Now, I'm no detective, but I know a rat when I smell one. I can say with a good amount of certainty that Vinyl and I weren't the only ones to get that letter. But what lunatic would go to such great lengths in order to hold every musician in Equestria hostage like this, and to what end? I don't have an answer to this, but one thing is for certain. Whoever it is, they won't get away with it.
The story I'm about to tell you is real (but again, I wish it wasn't), although some details may be open to interpretation. For the sake of clarity, I have decided not to change any names. Also, I feel it's fair to warn you that this is not a tale for young foals, the faint of heart, or the easily offended. If you fall into any of these categories, I highly advise you to turn back now and find something a bit more pleasant.
((Case 2 of the Mare-Do-Well Files.))
Chapters (31)