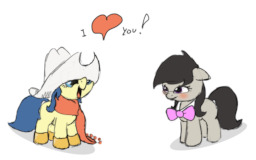 Source
Octavia has never considered Vinyl Scratch to be an ideal roommate. She's loud and obnoxious, she comes home whenever she dang well pleases, and she rarely (if ever) takes things seriously. So when Octy learns that she has a twin sister named Fiddlesticks who's coming in for a visit, she can't help but feel a sense of dread. Not because she fears that Fiddlesticks will be offended by Vinyl's bombastic attitude, although that in and of itself would be pretty terrible. Rather, she's afraid of Fiddlesticks embracing said attitude and proceeding to drive her insane.
To ease her roommate's worries, Vinyl promises to be on her best behavior. However, such a promise can only go so far, as she's not too keen on the idea of two Octavias running around and telling her what to do. With Tavi trying too hard to be a good host, Vinyl trying to curb her rebellious nature, and Fiddlesticks just trying to have a good time, something's gotta give...
Rated Teen for crude humor and suggestive themes.
Chapters (9)