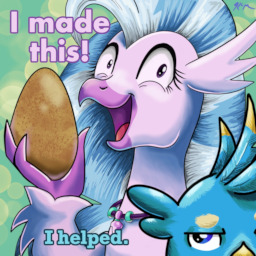 Source
Silverstream and her husband Gallus are going to be parents! Everyone is so excited about their egg.
Well…almost everyone.
---
We're Eggspecting! takes place a few years after the Young Six graduate from the School of Friendship and go their (mostly) separate ways.
New cover art by the truly wonderful Cat Scratch Paper.

---
Featured on FimFiction February 2019!
Posted to Equestria Daily!
Selected for the Royal Canterlot Library!
Translated to Polish by Zodiac!
Chapters (1)