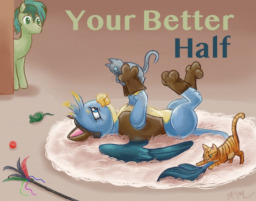 Source
On a trip to Ponyville's new cat café, Sandbar makes three discoveries:
1. He has a huge crush on Gallus.
2. He is severely allergic to cats.
3. Griffons are half cat.
---
Set early in the school year in an alternate Season 8.
An entry for The Discovery Young Six writing contest.
Thanks to Cat Scratch Paper for editing and the cover art!
Chapters (4)