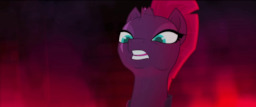 Source
In the aftermath of the Storm King's power play during the Friendship Festival, Tempest Shadow finds herself at a crossroads once again. She hasn't been banished her for her crimes, but no party can change the festering feeling of being out of place, to not say straight unwelcome.
Exploring the caves underneath Canterlot, she stumbles upon an odd, crimson shard, and a spirit of a lost king who promises to mend her broken horn—and while he's at it, to help her get her old life back.
The hornless pony finds the ponyless horn's offer tempting.
Recommended by PresentPerfect here!
Chapters (1)