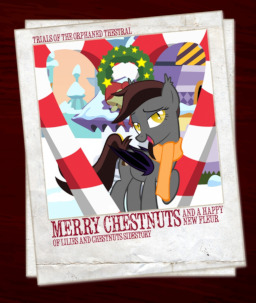 This story takes place three weeks after Of Lilies and Chestnuts
---
Hearth's Warming, the ponykind celebration of unity is right around the corner. Every moment is a chance to spread winter cheer as Canterlot far and wide, and Chestnut, Fleur, and Fancy Pants intend to make their first holiday as a family the best it can be.
Easier said than done, especially when you are a known socialite with a recent party foul on your tab. Or a freshly made mother learning the ropes. Or a Prench for once trying to figure out how to approach this strictly Equestrian holiday.
Merry Hearth's Warming, Fleur. Merry Hearth's Warming.
Chapters (15)