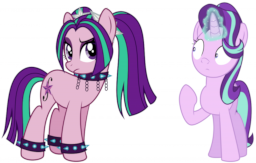 A slice of life side story to Love Call of the Sirens. For those of you who haven't read it and want to read on, the abridged version is "Twilight dumped the Dazzlings on Button Mash's mom and now they are ponies for some reason."
Aria Blaze goes to Twilight's to borrow a cup of sugar because that's what neighbors do, right? Things rapidly go downhill faster than anyone, even Aria... especially Aria, could have predicted.
Starlight Glimmer vector by Illumnious.
Aria Blaze vector by Osipush.
Chapters (1)