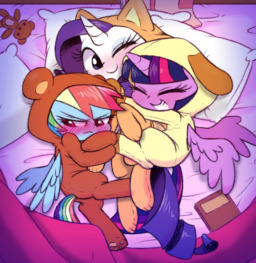 Source
Twilight and Rainbow Dash are visiting Rarity. However, when the first snows of winter suddenly fall--rather than let her friends trudge through the cold on their way home--Rarity invites the two to stay the night at her place.
What started off as a fun night for the three will soon spiral into an embarrassing evening for Rainbow Dash, especially after Rarity unveils to them her newest line of animal-inspired sleepwear.
---
Commissioned by Anonymous who wanted a story written around the cover art here that was drawn by Raridashdoodles
Click here for a reading!
Chapters (1)