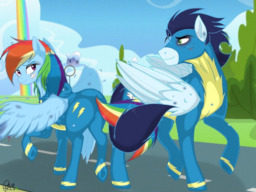 Source
Soarin' thinks there's something wrong with him.
He's been practicing a certain two-pony stunt with Rainbow Dash for quite a while now, and yet all they have to show for it are cuts and bruises.
Maybe he hasn't been putting in enough practice.
Or maybe, just maybe... there's nothing wrong with him at all.
---
Art by Pimpartist101.
Written for PimpArtist101's contest.
Special thanks to Shortskirtsandexplosions for his help.
Chapters (1)